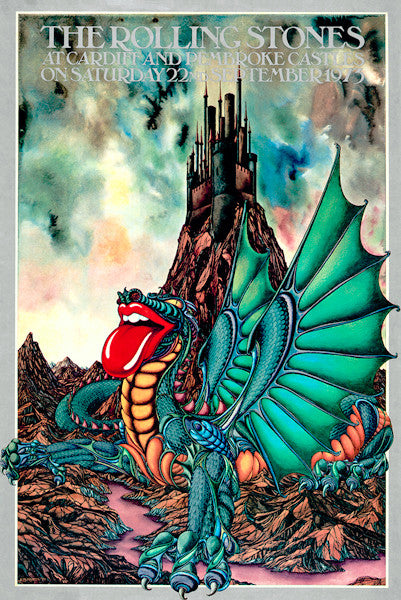 1973 Rolling Stones Concert Print, Limited Edition of 73
Limited edition of 73
2 framed copies only remain available for sale        $950 NZD each
Buyer must collect
Contact Kate to make arrangements 
In 1973 I was asked by the Rolling Stones to create a poster for their Cardiff and Pembroke Castle Concerts following their world tour.

When the local authorities cancelled the concerts for fear of corrupting local youth, most of the original posters were pulped, making this "the rarest and most desirable Rolling Stones poster out there" according to classicposters.com. There are less than 20 of the original posters left in the world, they are extremely valuable and sought after by collectors, and sell for many thousands of dollars, with Mick owning the original painting.
These are part of a limited edition of 73 taken from one of the original posters. They are printed on 310 gsm paper of the highest archival quality using the Giclee method, and signed and numbered. Though there have been poor quality copies produced over the years, this is the only high standard archival quality edition. There will never be any more!
Check out About Kate to review the publicity around this poster and the 2014 Rolling Stones concert in Auckland, New Zealand. 
Styles: fantasy, magical, painting, watercolour, rolling stones, Kate Burness Art, Limited edition